Macro-Zyme™ vijver bacteriën bevatten een hoge concentratie van facultatief anaërobe bacteriën die zich snel reproduceren en de organische mest in uw vijver consumeren. Deze hoge concentratie van gunstige bacteriën zal onmiddellijk aan het werk gaan. Ze verteren koolstofatomen, vetten, zetmeel, eiwitten en cellulose materialen in uw vijver, maken de vijver schoon en het waardoor ongewenste geuren verdwijnen.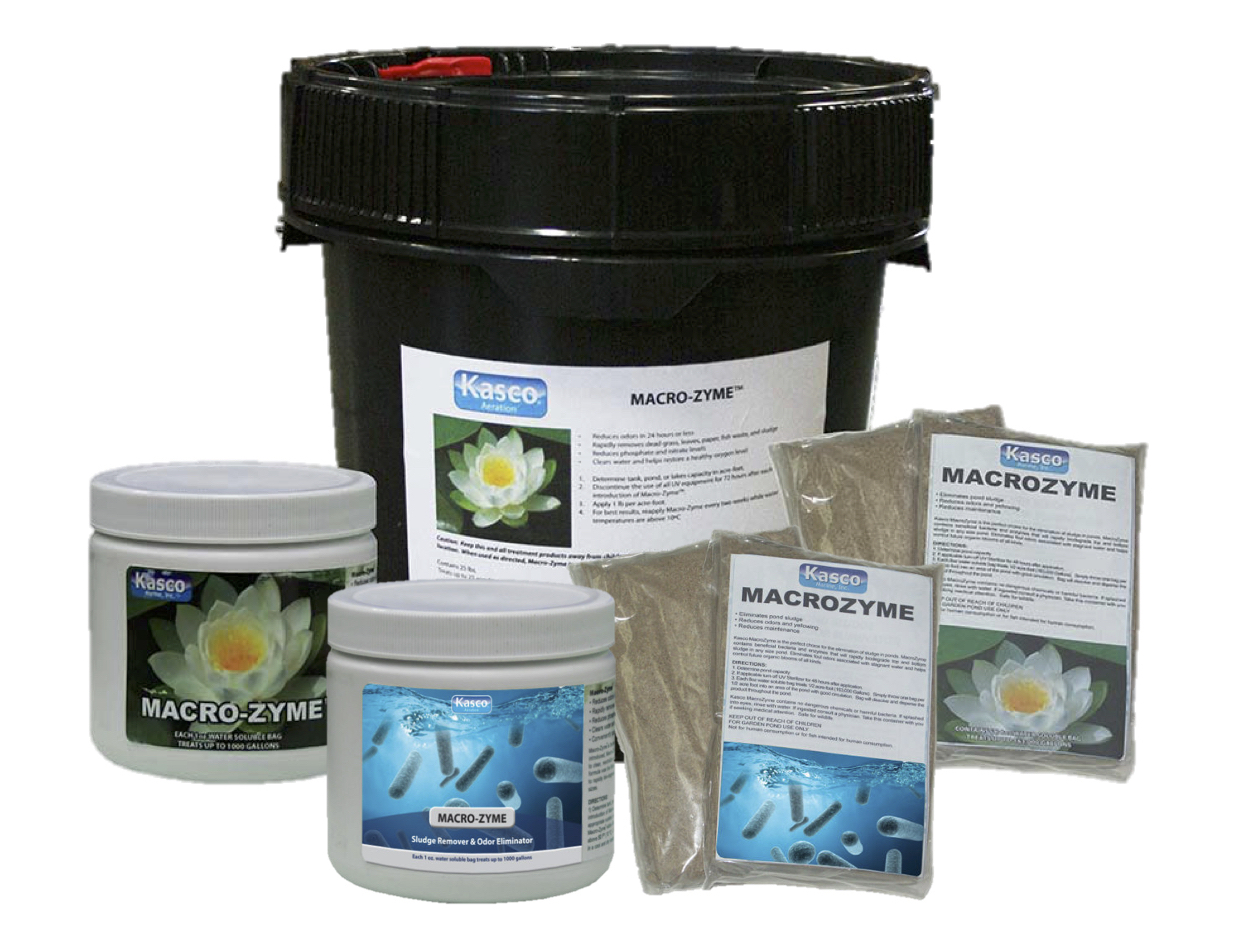 Het is de perfecte keuze voor de controle en verwijdering van slib en vieze geur, in tanks, vijvers en meren. Eenmaal ingevoerd, Macro-Zyme™ zullen de miljarden vriendelijke en heilzame vijverbacteriën en enzymen de klok rond het water neutraliseren en zuiveren.
Deze geconcentreerde professionele formule was in 1991 het eerste 1-staps onderhoudsprogramma dat natuurlijke bacteriën en enzymen gebruikt. Macro-Zyme™ zal ook nitraten en fosfaten verminderen. Deze vijver bacteriën:
Verminderen geuren in 24 uur of minder
Verwijderen snel dood gras, bladeren, papier, visafval en organische slib
Zorgen voor helder water en herstellen een gezond zuurstofgehalte
Vijver behandeling met Macro-Zyme™ is snel en gemakkelijk. Op de verpakking staat precies de benodigde hoeveelheid per behandeling. Gebruikt u ook een UV-sterilisator in uw watertuin, dan zal u deze voor ten minste 48 uur na de Macro-Zyme™ applicatie moeten uitschakelen om de bacteriën hun werk goed te doen. Macro-Zyme™ is een mengsel van aërobe bacteriën en zal meer effectief zijn met behulp van een beluchting, zoals beluchtings fontein of beluchter.
https://www.scanship.nl/portfolio/vijver-bacterieen/