Het is weer raak. In toenemende mate blijken stilstaande stedelijke wateren te kampen met problemen met de waterkwaliteit, met algenbloei, zuurstofloosheid en in het ergste geval vissterfte of botulisme. Het gaat hierbij voornamelijk om stedelijke wateren met een zogenaamde zichtfunctie of bestemd voor recreatie. Stadswateren met een structureel slechte waterkwaliteit kunnen een risico vormen voor de volksgezondheid of zijn een belemmering voor de functie van het water.
De belangrijkste negatieve effecten die optreden in de stedelijke wateren zijn: stank en onaantrekkelijk zicht op de plas, snelle aanwas van slib, periodiek zeer lage zuurstofgehaltes (of zuurstofloosheid), algenbloei (groenalgen, blauwalgen, kroos), vissterfte, botulisme en risico's volksgezondheid (botulisme, colibacteriën).
Systeemgerichte maatregelen beïnvloeden de hydrologie van het watersysteem. Door systeemmaatregelen te nemen wordt meer of juist minder water van externe bronnen aangevoerd, met als doel het voorkómen van eutrofiëring en dus fenomenen als blauwalgenbloei en vissterfte. Maatregelen bestaan uit b.v. overstorten saneren, watergangen aan- of afkoppelen.
Op inrichting gerichte maatregelen zijn vooral bij niet-natuurlijke wateren vaak noodzakelijk voor het lang in stand houden van een helder water met een zekere biodiversiteit in meerdere groepen planten en dieren. Deze wateren zijn namelijk gevoeliger voor de gevolgen van fluctuaties van bijvoorbeeld temperatuur en nutriëntengehalten, waardoor problemen eerder optreden. Maatregelen kunnen b.v. bestaan uit verdiepen van het water, permanente beluchting en circulatie, inrichten van (voor een deel)natuurlijk oevers, waterbodemproblematiek opheffen.
Op beheer gerichte maatregelen zijn meestal alleen effectief als de hoofdoorzaak van de slechte waterkwaliteit niet in de inrichting of in het systeem zelf is verborgen. Voorbeelden: peilbeheer, visstandsbeheer, tegengaan van bladval, verwijderen van het bodemslib(baggeren), permanente beluchting en circulatie, verminderen van het voeren van vogels en vissen.
Effectgerichte maatregelen bestrijden de waterkwaliteitsproblemen, zonder de achterliggende oorzaak of oorzaken aan te pakken. Effectmaatregelen worden als noodingrepen beschouwd, die gehanteerd worden als de omstandigheden in het veld meer duurzame maatregelen niet mogelijk maken. Voorbeelden: het inbrengen van zuurstof, het circuleren van water, isoleren en verwijderen van blauwalgen, toevoegen van stoffen ter bestrijding van blauwalgen, mengen van de waterkolom.
En monitoren/waarschuwen? Bij aanwezigheid van blauwalgen en ziektes, informatieborden plaatsen is de makkelijkste en meest voorkomende oplossing. Maar stilstaan en achterover leunen betekent dat het probleem zich gaat herhalen. Zeker met de klimaatverandering.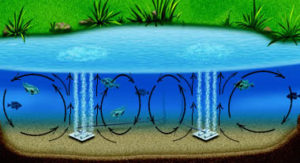 Het inbrengen van zuurstof door middel van beluchters, beluchtingsfonteinen en diffusers en circulatie, zijn beproefde middelen, die relatief eenvoudig en goedkoop zijn.
Meer info
Kasco Maritiem BV: 0181- 770 727 of 06-53 346356